Car Logos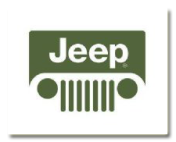 The Jeep logo as it stands currently represents the front of the vehicle. It consists of two circles representing the headlights and vertical bars representing the grill in the front of the car. The word Jeep runs on top of the logo.
Jeep started out as a military vehicle and was later considered a Willys-Overland model, so it didn't really originally have a logo unless you count the word "Jeep" in parentheses, which appeared in the same typeface from civilian introduction in 1946 well into the 1960s. Probably the closest thing to a Jeep logo appeared in 1963 in the center of Wagoneer and Gladiator hubcaps and steering wheels. This was the same time Kaiser dropped the Willys name, changing the division name from Willys Motors to Kaiser Jeep Corporation and establishing Jeep as a stand-alone brand name. This emblem was a circle (in some illustrations looking vaguely like a stylized dendition of a Warn locking hub) with two gold quarters, two red quarters, and the "Jeep" name across the middle. After AMC's purchase of Jeep in 1971, the gold was replaced by blue.
The interesting thing about this logo is that never seen on the car itself. The car just has the words "Jeep" on it. The logo is primarily used for advertising and marketing purposes.
More Car Logos
Car Logo Parodies
World Famous Logos

Click here for more information on the History, Design and Meaning of Car Logos The respective logos are registered trademarks. Use of the logo here does not imply endorsement of the organization by this site.