Car Logos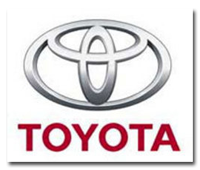 I own a Toyota Camry and never gave much thought to what the logo meant. From far it looked like a T to me, which stood for Toyota. While doing the research for this logo, I found out that it is actually three elipses depicting the heart of the customer, the heart of the product, and the ever-expanding technological advancements and boundless opportunities that lie ahead.
I finally found the official explaination from Toyota, thanks to JoAnn Paules 
The current Toyota Mark consists of three ovals: the two perpendicular center ovals represent a relationship of mutual trust between the customer and Toyota.  These ovals combine to symbolize the letter "T" for Toyota.  The space in the background implies a global expansion of Toyota's technology and unlimited potential for the future.

http://www.toyota.co.jp/en/vision/traditions/nov_dec_04.html
One website even described it as a cowboy with a big hat. :-)
More Car Logos
Car Logo Parodies
World Famous Logos

Click here for more information on the History, Design and Meaning of Car Logos. The respective logos are registered trademarks. Use of the logo here does not imply endorsement of the organization by this site.