Car Logos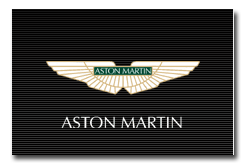 Aston Martin Lagonda Ltd. is a British luxury car manufacturer based in Newport Pagnell, Buckinghamshire. Up to the year 2003, approximately 20,200 cars had been built by Aston Martin. Today, the company is part of the Premier Automotive Group division of Ford Motor Company.
Aston Martin was founded in 1914 by Lionel Martin and Robert Bamford. The two had joined forces the previous year to sell cars made by Singer. Martin raced specials at the Aston Hill Hillclimb near Aston Clinton, and the pair decided to make their own vehicles. They acquired premises at Abingdon Road in Kensington and produced their first car in March 1915.
The company name was derived from Aston Hill and Lionel Martin.
Aston Martin information from Wikipedia, the free encyclopedia.
More Car Logos
Car Logo Parodies
World Famous Logos

Click here for more information on the History, Design and Meaning of Car Logos. The respective logos are registered trademarks. Use of the logo here does not imply endorsement of the organization by this site.