NBA Logos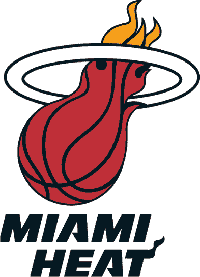 The Miami Heat are a professional basketball team based in Miami, Florida, United States. The Heat were formed in 1988 as an expansion franchise along with the Charlotte Hornets and they along with the Orlando Magic are the only two NBA franchises to represent the state of Florida. The Miami Heat have had some up and down years through their life in the NBA and finally won the Championship in 2006 defeating the Dallas Mavericks. In 2010, the Heat shot into the limelight by signing LeBron James and Chris Bosh to join Dwanye Wade creating what they believe will be a multi-Championship winning team (some call them the Heatles, while others called them the cHeats)

The origin of the name Heat are sketchy but obviously reflects the year-round hot/warm weather of Miami. It is said that the name was selected in some type of contest.
The logo is pretty simple and shows the follow main elements
A basketball on fire going through a basketball hoop.
The T on the word Heat also shows a little flame on the top
The color red is the prominent color on the logo and is also the color of their jerseys
The images below shows the old and current logo. The previous logo was very similar and was changed in 1999.
The logo depicted on this page is a registered trademark. Use of the logo here does not imply endorsement of the organization by this site.
More NBA Logos
More Sports Logos
More Football Logos
See more World Famous Logos