Ranbir Kapoor (born September 28, 1982 in Mumbai, Maharashtra, India) is an upcoming actor in Bollywood. He comes from a very well-known legendary film clan. He is the son of actors Rishi Kapoor and Neetu Singh. He is the brother of Riddhima Kapoor.

His great grandfather was Prithviraj Kapoor, his grandfather was Raj Kapoor, his granduncles are Shashi Kapoor and Shammi Kapoor, his uncles are Randhir Kapoor and Rajiv Kapoor and his cousins are Karisma Kapoor, Kareena Kapoor and Nikhil Nanda. (see main article Kapoor Family).
Rishi Kapoor confirmed at the IIFA Awards that Ranbir Kapoor will make his debut with Anil Kapoor's daughter Sonam Kapoor under Sanjay Leela Bhansali, the film is titled Saawariya.
October 19th, 2007: Mumbai traffic cops will soon convene a meeting of top school administrators to showcase a model school bus service. A brainchild of activist Indrani Malkani, the service has reduced traffic outside Cathedral & John Connon School in Fort to a large extent.
The use of the school bus service by 94 per cent students of the school has taken 716 cars off the school€™s street during peak traffic hours. Buses, 52 in all, converge on the three roads where the junior, middle and senior sections of the school are situated. €œWe would like all schools to adopt this model for reducing traffic and vehicular pollution considerably,€ said S S Solunke, DCP (Traffic), South.
Another Article: 3 city schools show way to beat traffic chaos
| | |
| --- | --- |
| | Neerja Bhanot (September 7, 1964 - September 5, 1986) was an Indian flight attendant for Pan Am airlines who was killed by terrorists in 1986.Bhanot was born in Chandigarh, India. She was the daughter of Harish and Rama Bhanot. Neerja was the Flight Stewardess on board the Pan Am flight which was hijacked by terrorists. Got a national award for bravery when she died protecting the passengers against the terrorists.  |
Flight 73
Bhanot was the senior flight purser on Pan Am Flight 73 on September 5, 1986, when it was hijacked by terrorists. She hid the passports of the passengers on the flight so that the hijackers could not differentiate between American and non-American citizens. She was killed while shielding three children from bullets fired by the hijackers.
For her bravery the Government of India posthumously awarded her the Ashoka Chakra (India's highest decoration for gallantry away from the battlefield, or not in the face of the enemy). She is the youngest recipient of the award. In 2004 the Indian Postal Service released a stamp commemorating her.
With the money from the insurance settlement, Neerja's parents set up a trust account honoring Indian women showing exemplary courage every year.
November 4th, 2007 - The Powai Lake can bring down the ambient temperature of the Powai valley by three to four degree Celsius than that of the surrounding region.€™ Explaining the significance of the lake to a group of students participating in a €˜Young Environmentalists (YE) Programme€™, retired professor of the Indian Institute of Technology, Bombay K C Sahu emphasised on conservation of the same. The event was aimed at creating awareness about the lake.
Click here for the complete article.
Mumbai, October 28 There were no head butts or ugly showdowns during the MSSA under-16 girl€™s football final between St Anne€™s, Fort and Bombay Scottish, Mahim. But that doesn€™t mean that the game lacked intensity. The old rivals played thrilling contest that went to a tie-breaker where Bombay Scottish won 7-6.
Click here for the complete article.
This is an open page where you are free to write anything you feel like as long as its connected to the school. There are the following rules and if you violate them, the posting will be removed. It just takes me a few minutes to do that so I request you not to waste your time if you plan to do the following
If you plan to rant about the school without merit, I will remove the posting

If you post slanderous comments about anyone it will be removed.
Please respect the objective of this page. This page is not managed by the school and posting nonsense about the school does not make a difference to anyone but me.
A lot of students from BSS have gone on to become famous personalities in their field of work. If you know any such person, please send me a small note about their achievements and I will add it to this page. One of the names that comes to mind is Aamir Khan.
This page looks very filmy and its probably because they are in the press more, but that is not the intent. :-) I am sure that there are a lot of other students who have gone on to achieve greatness. Please let me know. Thanks to Mustafa Eisa, Harkishin Thadani and Vinod Nair for the information.
There are many news stories that appear in the newspaper and on the Internet. This section contains news articles that are related to Bombay Scottish school. If you have any news items to submit, please send me the link or the news.
I have managed to collect a few images of the school, most of which are contributions from ex-students. I have organized the photos by category. If you have any images you would like to share, please do contact me.
Bombay Scottish School Businesses
Many of our ex-students are currently running their own businesses and this section of the website lists those businesses. If you would like your business listed here, please drop me a note.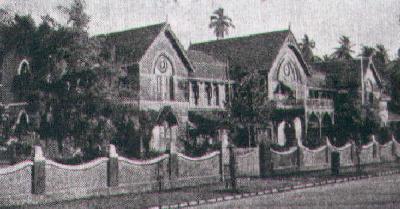 Bombay Scottish School, by night
Mapping history of one of city's finest schools
By Noel Keymer - Times of India, Feb 25, 2000
The year was 1847. A small group of Scottish missionaries decide to start a new school. The main objective of the school being to give Scottish orphan children an education so that they could take their rightful place in society as, `honourable and respected citizens'. The missionaries jump started their plan by acquiring a large plot at Mahim bay and started constructing the school, now officially dubbed, `The Bombay Scottish Orphanage'.
Bombay Scottish Orphanage started off humbly with just 12 students, but was still an imposing edifice. Built in the colonial style, it was a single storeyed structure constructed of black granite. The ground floor accommodated the school offices, a chapel cum hall, and two massive bathing rooms. Today, almost a century and a half later, the ancient pantry serves as a staff room for teachers, the bathing rooms and the toilet blocks have been converted into class rooms and computer rooms. And the old chapel is now a hall, called the McKay Hall, in loving memory of its first principal, Adam McKay.
But the hands of time do not change some things. Like the discipline and strict teaching standards, and more materialistically, the 105-year-old Grand Piano, which is still played at assembly everyday, or the 150-year-old banyan tree in the quadrangle, on which many a young boy has skinned his knees while climbing, or while swinging Tarzan-like, from its leafy vines.
Today, Scottish, as the school is lovingly called, boasts a spanking new three storey building, which houses numerous classrooms, a gym and a computer room, and thankfully, the old and the new architecture blend harmoniously together. Bombay Scottish - it's a name to reckon with. A landmark in every sense of the word. An epitome of good education and discipline, and considered by many to be one of the finest schools in the country. On February 18, Bombay Scottish saw students - past and present congregate to celebrate its 153rd founders day, and God willing may it grow in stature and may its present teachers and students take it to new undiscovered heights.