Reader Srujay Parekh sent us a class photograph of Jaane Tu... Ya Jaane Na's Imran Khan [Images] (circled), when they were in Std 3, studying in Mumbai's Bombay Scottish School.

Interestingly, Imran's mamu Aamir Khan [Images] studied in the same school for a few years.

After Std 4, Imran left Scottish, and moved to a boarding school in Ooty.

Srujay writes that Imran was a very nice child, who never misbehaved. He was a simple boy, who was a silent type, and always smiling.
| | |
| --- | --- |
| | Shilpa Kapoor was a Television Model and has done over 100 adfilms, viz Hallmark cards, Horlicks Junior, Daewoo, Daewoo Matiz, Wills Yearbook, Kodak Cameras, Walls Icecream, Tirupati Oil, Rooh Afza, Hamdard Rogan Badam Shirin, Clinic Shampoo, Sunsilk Shampoo, Visa, Hawkins.. and many more. She is currently an architect and an interior designer practising in Mumbai. |
Avinash Gowariker is a famous celebrity photographer based in Mumbai. He does work for Ads, Films, Celebrities etc. Some of his most famous work includes Om Shanti Om, Jodha Akbar and he has a gallery of all the leading celebrities. 

For more information visit his website. 
A lot of students from BSS have gone on to become famous personalities in their field of work. If you know any such person, please send me a small note about their achievements and I will add it to this page. One of the names that comes to mind is Aamir Khan.
This page looks very filmy and its probably because they are in the press more, but that is not the intent. :-) I am sure that there are a lot of other students who have gone on to achieve greatness. Please let me know. Thanks to Mustafa Eisa, Harkishin Thadani and Vinod Nair for the information.
There are many news stories that appear in the newspaper and on the Internet. This section contains news articles that are related to Bombay Scottish school. If you have any news items to submit, please send me the link or the news.
I have managed to collect a few images of the school, most of which are contributions from ex-students. I have organized the photos by category. If you have any images you would like to share, please do contact me.
Bombay Scottish School Businesses
Many of our ex-students are currently running their own businesses and this section of the website lists those businesses. If you would like your business listed here, please drop me a note.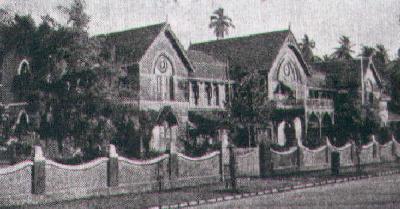 Bombay Scottish School, by night
Mapping history of one of city's finest schools
By Noel Keymer - Times of India, Feb 25, 2000
The year was 1847. A small group of Scottish missionaries decide to start a new school. The main objective of the school being to give Scottish orphan children an education so that they could take their rightful place in society as, `honourable and respected citizens'. The missionaries jump started their plan by acquiring a large plot at Mahim bay and started constructing the school, now officially dubbed, `The Bombay Scottish Orphanage'.
Bombay Scottish Orphanage started off humbly with just 12 students, but was still an imposing edifice. Built in the colonial style, it was a single storeyed structure constructed of black granite. The ground floor accommodated the school offices, a chapel cum hall, and two massive bathing rooms. Today, almost a century and a half later, the ancient pantry serves as a staff room for teachers, the bathing rooms and the toilet blocks have been converted into class rooms and computer rooms. And the old chapel is now a hall, called the McKay Hall, in loving memory of its first principal, Adam McKay.
But the hands of time do not change some things. Like the discipline and strict teaching standards, and more materialistically, the 105-year-old Grand Piano, which is still played at assembly everyday, or the 150-year-old banyan tree in the quadrangle, on which many a young boy has skinned his knees while climbing, or while swinging Tarzan-like, from its leafy vines.
Today, Scottish, as the school is lovingly called, boasts a spanking new three storey building, which houses numerous classrooms, a gym and a computer room, and thankfully, the old and the new architecture blend harmoniously together. Bombay Scottish - it's a name to reckon with. A landmark in every sense of the word. An epitome of good education and discipline, and considered by many to be one of the finest schools in the country. On February 18, Bombay Scottish saw students - past and present congregate to celebrate its 153rd founders day, and God willing may it grow in stature and may its present teachers and students take it to new undiscovered heights.