Traditional Indian Hindu Wedding
Mehndi is the traditional art of adorning the hands and feet with a paste made from the finely ground leaves of the henna plant. The term refers to the powder and paste, and the design on the skin, as well as the party or ceremony. Henna is a small shrub called hawsonia inermis, and is also know as Henne, Al-Khanna, Al-henna, Jamaica Mignonette, Mendee, Egyptian Privet, and Smooth Lawsonia. Henna grows in hot climates and is found in India, Pakistan, Malaysia, Persia, Syria, Egypt, Morocco, Sudan and other North African, Asian and Middle Eastern countries. The leaves, flowers, and twigs are ground into a fine powder, then mixed with hot water. Various shades are obtainable by mixing with the leaves of other plants, such as indigo. Tea, coffee, cloves, tamarind, lemon, sugar, and various oils are also used to enhance the colour and longevity of design.
Henna is used in celebrations of betrothals, weddings, births, circumcisions, religious holidays (similarly for Hindus, Muslims, Jews, Christians and other religions) and National festivals. A bride whose family has little money wears her mehndi in place of ornate gold jewellery. It is said that when a bride has mehndi done for her wedding, the darker the design, the more her mother-in-law loves her. A good deeply-coloured design is a sign of good luck for the marital couple. It is common for the names of the bride and groom to be hidden in the mehndi design; and the wedding night cannot commence until the groom has found the names. A bride is not expected to perform any housework until her wedding mehndi has faded. While much of the symbolism of mehndi designs are being lost some examples remain. The peacock, which is the national bird of India, the lotus flower, and an elephant with a raised trunk, which is a symbol of good luck, are all popular images.
The images below are the Mehndi work done on my cousin sisters hands. Unfortunately, I don't have pictures of Anupama's Mehndi. You can see a bit on the first picture below.

---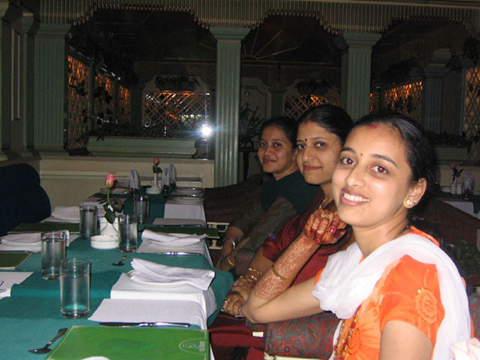 Anupama (in front), my cousin's wife Anuradha and my cousin sister Maya
---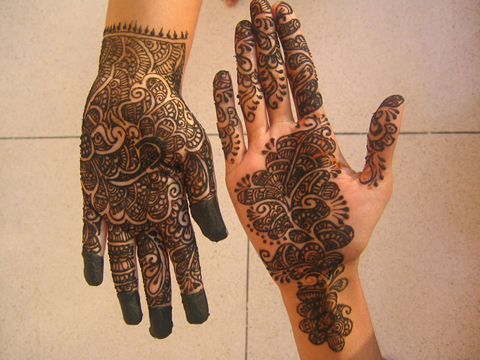 This image and the rest are images of the mehndi on the hands of my cousin sisters.
---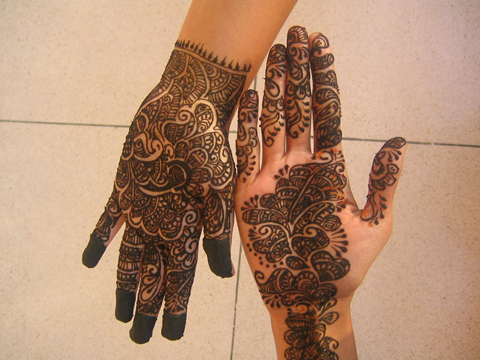 ---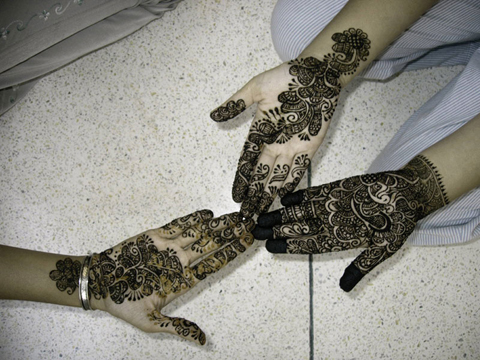 ---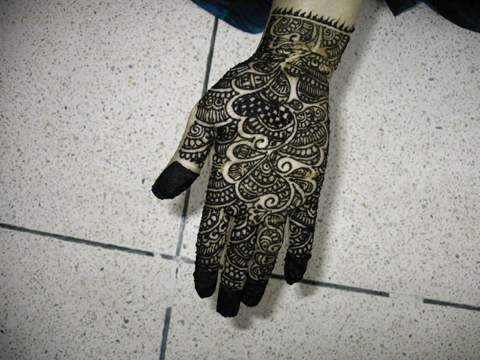 ---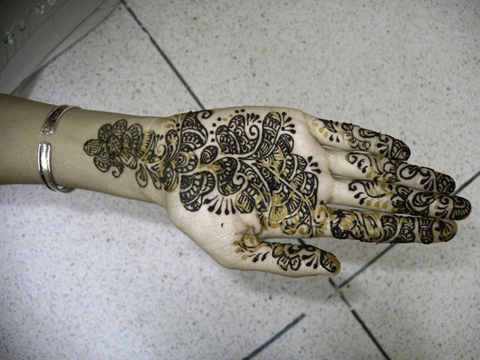 ---