Car Logos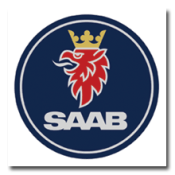 Saab is a line of automobiles manufactured by Saab Automobile AB, and is currently a wholly-owned subsidiary of the General Motors Corporation. Originally, Saab AB was an aviation and defense company based in Sweden and founded in 1937 in Trollhattan. Its name was an acronym for "Svenska Aeroplan Aktiebolaget" (translates to Swedish Aeroplane Limited), thus written as "SAAB". In 1939 Saab merged with the Linköping, based ASJA and the headquarters moved to Linköping. During changes in company ownership in the 1990s, the company name became Saab AB.
The logo of this SAAB depicts a mythological bird which is also used on the official coat of arms of the Count von Skane. The symbol was used as the symbol for the Swedish province Skane, where the SAAB company was formed.
Source: http://en.wikipedia.org/wiki/Saab_Automobile

More Car Logos
Car Logo Parodies
World Famous Logos

Click here for more information on the History, Design and Meaning of Car Logos. The respective logos are registered trademarks. Use of the logo here does not imply endorsement of the organization by this site.