Car Logos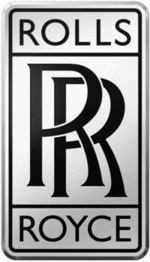 The Rolls Royce logo consisting of the two Rs or the double R clearly stands for the Rolls and Royce, the two founders of this car manufacturing company. There is nothing special about the design of the logo, but the brand name is so strong, the logo looks special. In 1998, BMW the option on the trademarks, licensing the name and "RR" logo for £40m.
In 1884 Frederick Henry Royce started an electrical and mechanical business. He made his first car, a "Royce", in his Manchester factory in 1904. He was introduced to Charles Stewart Rolls in a Manchester hotel on the May 4 that year, and the pair agreed a deal where Royce would manufacture cars, to be sold exclusively by Rolls. A clause was added to the contract, stipulating the cars would be called "Rolls-Royce".
Read more about the Rolls Royce company here

Source : http://www.rolls-royce.com/about/brand/history.jsp

More Car Logos
Car Logo Parodies
World Famous Logos

Click here for more information on the History, Design and Meaning of Car Logos. The respective logos are registered trademarks. Use of the logo here does not imply endorsement of the organization by this site.