Car Logos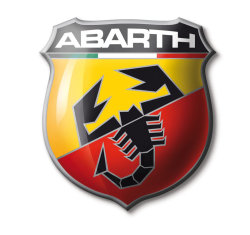 Abarth is an Italian racing car maker founded by Italian-Austrian Karl (Carlo) Abarth in Turin in 1949. Abarth was sold to Fiat on July 31 1971, and the racing team sold to Enzo Osella. Abarth became the racing department of Fiat, managed by famed engine designer Aurelio Lampredi.
The Abarth logo consists of the following key elements
The shape of the logo represents a shield which symbolizes the notion of victory. You can find some of the other racing logos like Porsche also have a shield in their logo.
The red, white and green represent the colors of the Italian Flag.
The scorpion is the key part of the logo and represents the astrological sign of Karl Alberto Abarth who was born on November 15th 1908.
The red and yellow colors apparently represent the racing world.

Source : http://en.wikipedia.org/wiki/Abarth

More Car Logos
Car Logo Parodies
World Famous Logos

Click here for more information on the History, Design and Meaning of Car Logos. The respective logos are registered trademarks. Use of the logo here does not imply endorsement of the organization by this site.