The Ford oval trademark is one of the best-known corporate symbols in the world and has been in regular use for more than 50 years. The script trademark dates back to the very beginning of the company when Henry Ford's engineering assistant developed a stylised version of the words "Ford Motor Company".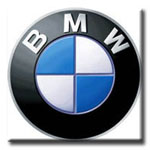 BMW stands for Bayerische Motoren Werke or Bavarian Motor Company. The company was established in 1913 and based in Munich, Germany. It started out as an aero engine manufacturer, hence the company logo. The logo comprised of four quadrants of alternating white and blue color. It is a stylized representation of an airplane propeller spinning against the clear blue sky. The logo represents a white propeller blade against a blue sky. It reflects the origins of BMW as a maker of military aircraft engines during WWI. Also, white and blue are the traditional colors of Bavaria.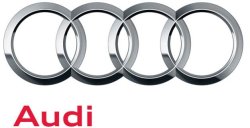 The Audi badge the 'Four Rings' is the emblem of one of the oldest car manufacturers in Germany. It symbolises the 1932 merger of the four independent motor-vehicle manufacturers: Audi, DKW, Horch and Wanderer. Together with the NSU brand, which joined in 1969, these companies are the roots of the present-day AUDI AG. After the war the Audi name - which is Latin for "Hear!" - disappeared, but was revived in 1965, using the four rings as a logo. Also, the name is sort of a pun on 'hoerch', German for 'hear', name of one of the founders. The company itself is more than a century old.

The new logo, released in September 2009 changes the font and also improves on the 3-dimensional aspect of the rings.