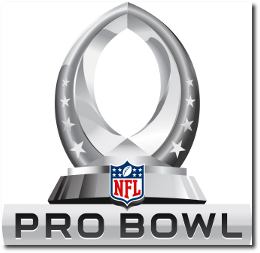 The Pro Bowl is the all-star game of the National Football League (NFL). Since the merger with the rival American Football League (AFL) in 1970, it has been officially called the AFC-NFC Pro Bowl, matching the top players in the American Football Conference (AFC) against those in the National Football Conference (NFC). Currently, players are voted into the Pro Bowl by the coaches, the players themselves, and the fans.The Pro Bowl has been played in Hawaii since 1970 except for 2009 when it was held in Miami. The 2012 game will be held in Hawaii as well and will be played on Jan 29th, 2012, a week before Super Bowl XVI.
The Pro Bowl logo, just like the Super Bowl logo has been standarized in 2011 and has taken the same black & white steel feel to it. The logo consists of the following  key elements 
The logo is in the shape of the Pro Bowl trophy, which is basically the shape of a football.
There are 4 stars on each side representing the 4 conferences in the AFC (AFC North, AFC South, AFC East, AFC West) and the NFC (NFC North, NFC South, NFC East, NFC West)
The only non black and white element of the logo is the colorful NFL logo at the bottom of the trophy.
Once again, much like the new Super Bowl logo which is black and white and allows little change, I prefer the more colorful logos which changed every year. It was always exciting looking forward to a new logo which more often than not, hit the mark.
See all the SuperBowl Logos here.
See the SuperBowl XLII Logo and the SuperBowl XLI Logo.
See more World Famous Logos
Technology Logos 
Car Logos
Logo Parodies