Airline Logos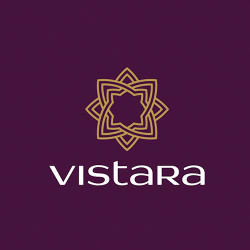 In August 2014, the Tata Group and Singapore Airlines unveiled the logo, livery and uniform of their new joint-venture airline, Airline Vistara. Vistara hosted a big event in New Delhi on the 12th of August and was attended by senior members of both companies. The airline plans to offer 87 weekly flights during its first year of operation. Destinations will include Mumbai, Bangalore, Ahmedabad, Hyderabad, Srinagar, Patna and Chandigarh.
Vistara is derived from vistaar means infinite expanse in Sanskrit. It is the perfect cue for the airline that aims to push back the boundaries of air travel and create seamless experiences. Vistaar also conjures up the image most associated with a smooth flight an endless, blue horizon. The Vistara star is derived from a Yantra, an ancient symbol that depicts an unbounded universe in a perfect mathematical form. At its heart, is an 8 pointed star derived from the compass rose that signals the brand's commitment to excellence in everything that it does. The logo and concept was designed by Ray+Keshavan and Brand Union.
The cabin crew uniform has been designed by fashion house Abraham & Thakore and will see the airhostesses wear smart kurtis and pants.
I personally am not awed by the logo but respect the concept and the simplicity. I like the concept of Vistaar and infinite expanse as it goes well with the notion of travel. I hope they do get to fly international sooner than the 5 years, so that their customers can experience international travel. The purple hue that has been chosen for the logo, livery and uniforms reminds me of the color scheme used by Thai Airways. I find that color scheme has a certain elegance. Overall a simple concept that is contemporary but based on traditional elements.
Other logos that are based on the star include - Macy's, Converse, Dallas Cowboys and Fedex Kinkos among others, while Heineken, Starbucks, On Star, Sirius make use the star in their logos.
See more World Famous Logos
See more Airline Logos