Hotel Logos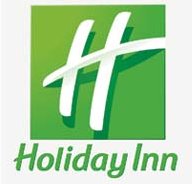 Holiday Inn is one of the world's most recognised hotel brands with over 400,000 rooms in 3,125 hotels. The original Holiday Inn chain of hotels was founded in 1952 in Memphis, Tennessee, by homebuilder Kemmons Wilson to provide inexpensive family accommodation for travellers within the USA. The chain is currently owned by InterContinental Hotels Group.
Holiday Inn announced in October 2007 that it would introduce a new logo for its chain of hotels. The new logo still maintains the green color theme. The "Holiday Inn" text which was a prominent part of the logo is now moved to the bottom of the logo with a more modern 21st century font. The text is now replaced with a stylish letter 'H'. The "Holiday Express Logo" will also be changed.
Owners and franchisees will invest up to $1billion over a three year period in total to carry out the brand relaunch to meet the required service and quality levels. Holiday Inn franchise owners will have to make changes to hang the new logo by investing as much as $150,000 per hotel in new bedding, shower rods and landscaping.
| | |
| --- | --- |
| | The orginal logo had the words "Holiday Inn" in a Script font. The company had retained the original script in its logo from its inception in 1952. The owner Kemmons Wilson introduced these large neon signs called the "Great Sign" in its hotels. These signs were very popular into the 70s but the management phased them out as they were too expensive to build and maintain. |
Old Holiday Inn Logos
| | | | |
| --- | --- | --- | --- |
| Holiday Inn Logo | Holiday Inn Logo | Holiday Inn Express Logo | Holiday Inn Sunspree Logo |
See more World Famous Logos
Technology Logos
Car Logos
Logo Parodies

The logo on this page is a registered trademark. Use of the logo here does not imply endorsement of the organization by this site.