Car Logos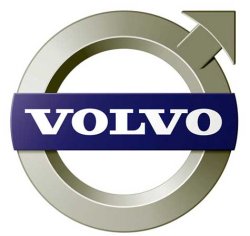 The Volvo Group is a Swedish supplier of commercial vehicles such as trucks, buses and construction equipment, drive systems for marine and industrial applications, aerospace components and financial services. Volvo was founded on 14 April 1927 in the city of Gothenburg, as a spin-off from the roller ball bearing maker SKF.


The name Volvo means "I roll" in Latin and is derived from the Latin word "volvere" which means "to roll". The name originated from the original company that manufactured bearings for the car industry. The logo for Volvo is the ancient symbol of Iron, which is a circle with an arrow pointed diagonally upwards to the right. This symbol also represented "Mars, the God of War" and also the symbol for "Man" as well. Volvo cars are also traditionally known for the safety features. The iron symbol was used to also reflect the strong tradition of th Swedish Iron Industry along with its properties such as safety, quality and durability. The name of the car "Volvo" also runs across the logo against a blue background.

The Volvo car and brand was sold to Ford in 1999.
Source : http://en.wikipedia.org/wiki/Volvo

http://www.volvoclub.org.uk/history/volvo_logo.shtml

More Car Logos
Car Logo Parodies
World Famous Logos

Click here for more information on the History, Design and Meaning of Car Logos. The respective logos are registered trademarks. Use of the logo here does not imply endorsement of the organization by this site.