Car Logos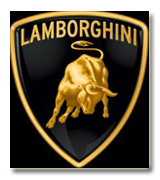 Lamborghini is an Italian manufacturer of high performance sports cars based in the small Italian village of Sant'Agata Bolognese, near Bologna. Lamborghini is now a subsidiary of German car manufacturer Audi AG, which is in turn a subsidiary of Volkswagen. Lamborghini is the main counterpart to Ferrari in the italian sports car business. The Italian company was founded in 1963 by businessman Ferruccio Lamborghini, who owned a successful tractor factory.
The Lamborghini Charging Bull Logo stands for the founder's, Ferruccio Lamborghini, zodiacal sign (Taurus). Most of the company's cars have been named after famous fighting bulls (oddly most have been spanish bulls not italian).
Interestingly it is said that the choice of an animal and the colors used on the logo (gold on a black background, and a charging bull) are suspiciously similar to the Ferrari logo (a black horse on a yellow background). It is believed that this was no accident on the part of Lamborghini, who had a long standing (and not always friendly) rivalry with Ferrari.

Source: http://en.wikipedia.org/wiki/Lamborghini

More Car Logos
Car Logo Parodies
World Famous Logos

Click here for more information on the History, Design and Meaning of Car Logos The respective logos are registered trademarks. Use of the logo here does not imply endorsement of the organization by this site.