Airport Logos
Airport Logos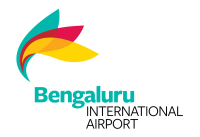 The city of Bangalore (Bengaluru) has undergone rapid expansion in the last two decades and desperately needed a brand new airport. The new Bengaluru International Airport will go live this weekend on the 23rd of May, 2008. The new airport has been redesigned to handle 11 million passengers. The redesign will see an increase in the size of the terminal, number of aircraft stands, new taxiway layouts and supporting infrastructure.
I was intriguiged by the logo of the airport and wanted to figure out what the logo represented. In my opinion, the logo represents a flower with three petals in teal, red and yellow. The flower obviously is used to represent Bangalore as a "Garden City". The words Bengaluru International Airport are in clear text with Bengaluru prominent in teal. Also the branding is using "Bengaluru" instead of "Bangalore". The shapes of the petals and the convergence of the petal tips also gives me a feeling of Indian-ness to the logo. Why those colors were chosen, I am still not clear. Looking at the branding information and images of the airport interiors, it does seem like all aspects of the branding use these colors, which is excellent. You can see this in the images below.

These images are taken from the BIAL website.