My Blog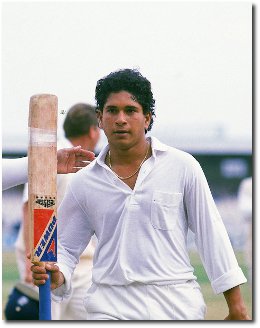 With Sachin Tendulkar having turned 40 (the big 4 O) a few days ago and, numerous articles have been written about his remarkable career. I am a fan of this great cricketer but perhaps not a super-fan like many others who know every statistic and nitty gritty detail. Having lived in Bombay, I was able follow his career from early on due his records set in the Harris Sheild and Giles Shield tournaments. He made his debut back in 1989 at the young age of 16 years and 205 days against India's arch-rival Pakistan in Karachi and announced his retirement from ODI at the end of 2012.
As I was reminiscing about his career, I felt the desire to write something but any article on his stats, career, style and achievements had already been written. Perhaps it in the geek in me that felt I should write an article about how technological advancements in the 24 years since his international debut back, helped me follow his career. So here is my geeky look back at technology and the Tendulkar era.
Good Ol' SW Radio : It must have been a rainy monsoon night when I was lying in bed hoping that this scrawny 17-year old would get his first century of his career. Back in 1990, the cable TV revolution had yet to begin in India and we only had Doordarshan. The one way to catch up on scores was to wait for the newspaper in the morning or try and catch the BBC commentary on Short Wave radio. I had all kinds of wires hooked to my window grill to get the best signal. Tendulkar was on his first tour of England and India were in trouble having lost some early wickets in the final innings of the 2nd Test. Tendulkar had put up a brave fight and was inching towards his first hundred. As he got into the 80s and 90s, it was nerve wracking just listening to the commentary and I was hoping and praying that he would get his hundred. The moment finally arrived and this young lad got his first hundred (I get goose pimples thinking about it) and saved India from a defeat. It was probably a scratchy signal but it allowed me to experience his first 100. Who knew he had 99 more centuries ahead of him.
Internet Relay Chat (IRC) : For the next 3-4 years, I was able to follow his career on TV and Radio and he had blossomed into a confident batsman and was an established member of the Indian cricket team. In 1993, I left the country and with that it became harder for me to follow him. At  that time, I was introduced to the Internet, which was largely used in academic circles. On our Unix workstations, there used to be an application called the Internet Relay Chat (IRC). IRC had thousands of chat rooms where you could login and chat on topics related to that channel. One of the popular rooms was #cricket where folks discussed cricket. When there was a live game, volunteers would provide live commentary of the game or regular score updates. For the next couple of years, I followed Sachin's career watching text messages as I worked on my assignment. It still remained exciting just sitting there watching text scroll by with little to no visual description of the shot but still as exciting.
World Wide Web : Towards the end of my studies, the world wide web had started to get popular because of the graphical browser Mosaic (then went on to become Netscape). With the rapid growth of the web, scores and other details started to move to the Web and somewhere in 90s, cricinfo.com was born. Cricinfo has its roots in the #cricket IRC channel and it became the most popular cricket website. With all the browser innovation, watching cricket on the web became more engaging as one could see graphics, stats and other information. For most of the 90s and into the 2000s, I followed his career on the web. During that period, Sachin had become the World's leading batsmen and it was a pleasure following him, even though it was reading an auto-refreshing web page. (For a while, cricinfo also offered live audio commentary for a fee but it did not really take off)
Willow TV and YouTube : In the decade since I left my grad school, the world wide web had grown beyond anything I would have imagined. The web was now available to people in their homes, most had dial-up services but broadband was catching on in the US. In the era of broadband communications, was born Willow TV. Willow TV allowed users to watch live video on computers via the Internet. I could now watch Tendulkar play thousands of miles away and not have to leave anything to my imagination. In 15 years, I had gone from listening to a scratchy SW radio commentary to watching him live on streaming video. By 2010/2011, YouTube was a sensation and was now Willow TV and YouTube were streaming cricket in High Definition.
Smartphone : With the launch of the iPhone, smartphone innovation took off in 2007/2008. Smartphones became more than phones and became multi-function devices where you could even watch TV. Willow TV started offering a mobile app allowing me to watch my cricket games anywhere I was. Almost 25 years later, I find myself in bed again but I am watching a crystal clear HD picture of the Little Master play. Times have changed, technology has changed but I get the same chill every time he plays and gets close to a 100. Agonizing as it was, he finally got his 100th 100.
Sachin Tendulkar is a rare sportsman who is not only amazingly gifted and talented, but very humble. In almost 25 years, this man has achieved every possible feat in the sport while technology has allowed me to follow this great sportsman from a scratchy audio signal on a radio to a crystal clear High Definition picture. Which achievement is bigger, Tendulkar's or the progress of technology? I leave it to you to decide.