My Blog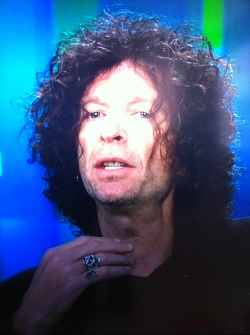 Most celebrities often get tattoos and also seem to be mystified by Eastern religions and such as Hinduism, Judaism, Buddhism etc. Besides some elaborate artwork of snakes and dragons, I have also seem them having tattoos in Sanskrit or some east Asian languages. I set out to look for celebrities who have Sanskrit tattoos and was surprised to find quite a few of them. Its not surprising that the most popular Sanskrit tattoo is Om. Om (or Aum) is arguably the most famous symbol of Hindu culture in the west and that probably is why its is so popular.


Howard Stern has an Om tattoo on his hand.
Katy Perry - have got 'Anuugacchati Pravaha', meaning 'Go With The Flow' inked inside the right arm,
Russell Brand - also got the same tattoo as Katy Perry when they decided to get married in India in 2010.
Tommy Lee  also has an Om Tattoo on his stomach. 
Alyssa Milano also has a wrist tattoo of the Hindu syllable "Om".
Sherilyn Fenn, a television star has an Om tattoo on her forearm
Angelina Jolie has a Sanskrit blessing in the Cambodian language, which she has said is to honor her first adopted son, Maddox.
David Beckham has the his wife Victoria's name tattooed on his arm.
Rihanna has a verse from the Bhagvad Gita tattoo on her hip. 
Katy Perry and Russell Brand got matching Sanskrit tattoos, following their engagement.  They both had a Sanskrit phrase inked on their bicep. The tattoo reads "Anuugacchati Pravaha", which means "Go With The Flow".
Jessica Alba has the Sanskrit word "Padma" which means lotus, tattooed on her wrist. The meanign behind this is that the lotus grows primarily in the mud, but grows beautifully and is unaffected by its surroundings. 
Kimberly Wyatt of Pussy Cat Dolls has a Sanskrit tattoo on the back of her neck, which says 'let all the being be happy and let my actions contribute to their happiness'.
Gillian Anderson has a Sanskrit tattoo on her wrist which translates to "Every Day".
If you know of any other celebrities with Indian tattoos, leave a comment.